5 Common Apprenticeship Interview Questions + Case Study
You have written the perfect CV and cover letter and now you are only one step away from securing your dream apprenticeship at the interview. No matter how old you are, interviews can be scary. They can make you feel nervous and anxious. Yet if you go to an interview prepared as best you can, you have every chance of succeeding.
To help you prepare, we've put together a list of the most common apprentice interview questions, as well as some advice on how best to answer them.
Common apprenticeship interview questions
Tell us a bit about yourself
This is one of the most common interview questions for apprentices. This question can either go one of two ways:
The interviewer may be using this question to get to know more about your education and any work experience that you may have. They may also be wanting to get to know you more on a personal level. What you like to do in your spare time, skills and qualities you have or anything about your personality that could benefit the role.
Top Tip: Keep it short. You don't need to go into detail about everything that has happened to you since birth. Briefly talk about your CV and your personality and interests. Aim for the one minute mark.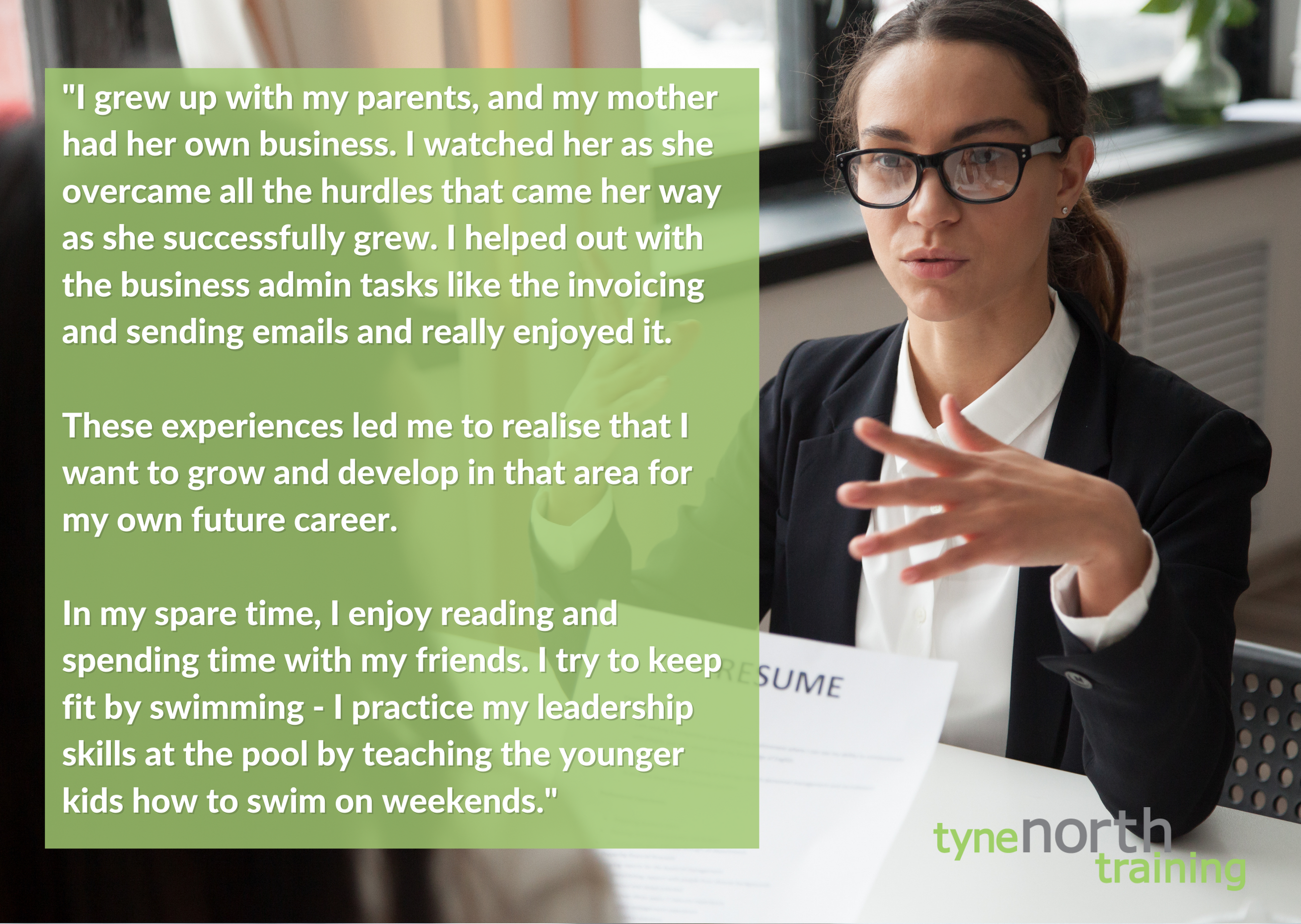 Why have you applied for this apprenticeship?
This is one of the important apprenticeship interview questions. In your apprenticeship interview you must be able to clearly convey to the interviewer why you have applied for the apprenticeship. The job description will come in handy here during the interview as you can relate is back to your interests.
Does the company attract you? Does the content of the apprenticeship interest you? Maybe it was the attraction of gaining professional work experience?
Top Tip:  Ask yourself the above questions and make sure to jot down everything you can think of. Don't worry about writing anything that is structured. Just put your thoughts down on a piece of paper. It will help you to think about why you're applying for the apprenticeship in the first place.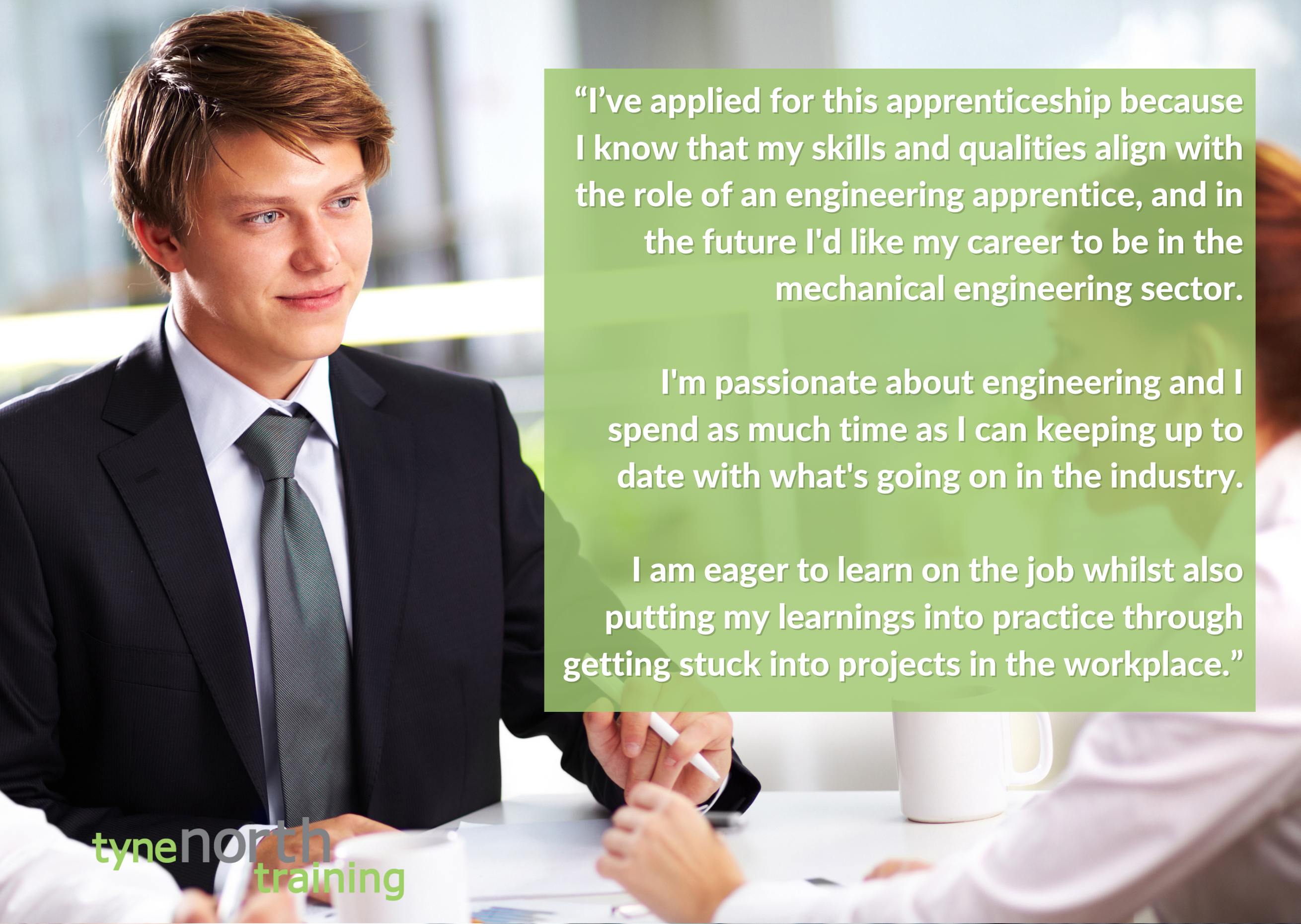 What skills can you bring to this role?
Think about your strengths when it comes to answering this question.
Are you a creative person?
Do you work well with others?
Are you a team player?
Are you organised?
Top Tip: Avoid listing buzzwords or soft skills when talking about your strengths.
"I'm a great team player, I'm organised, good at problem-solving and have a strong work ethic"
This doesn't really say anything to the interviewer. It doesn't highlight the HOW. Instead, focus on two or three soft skills and give an example of when and how you developed them.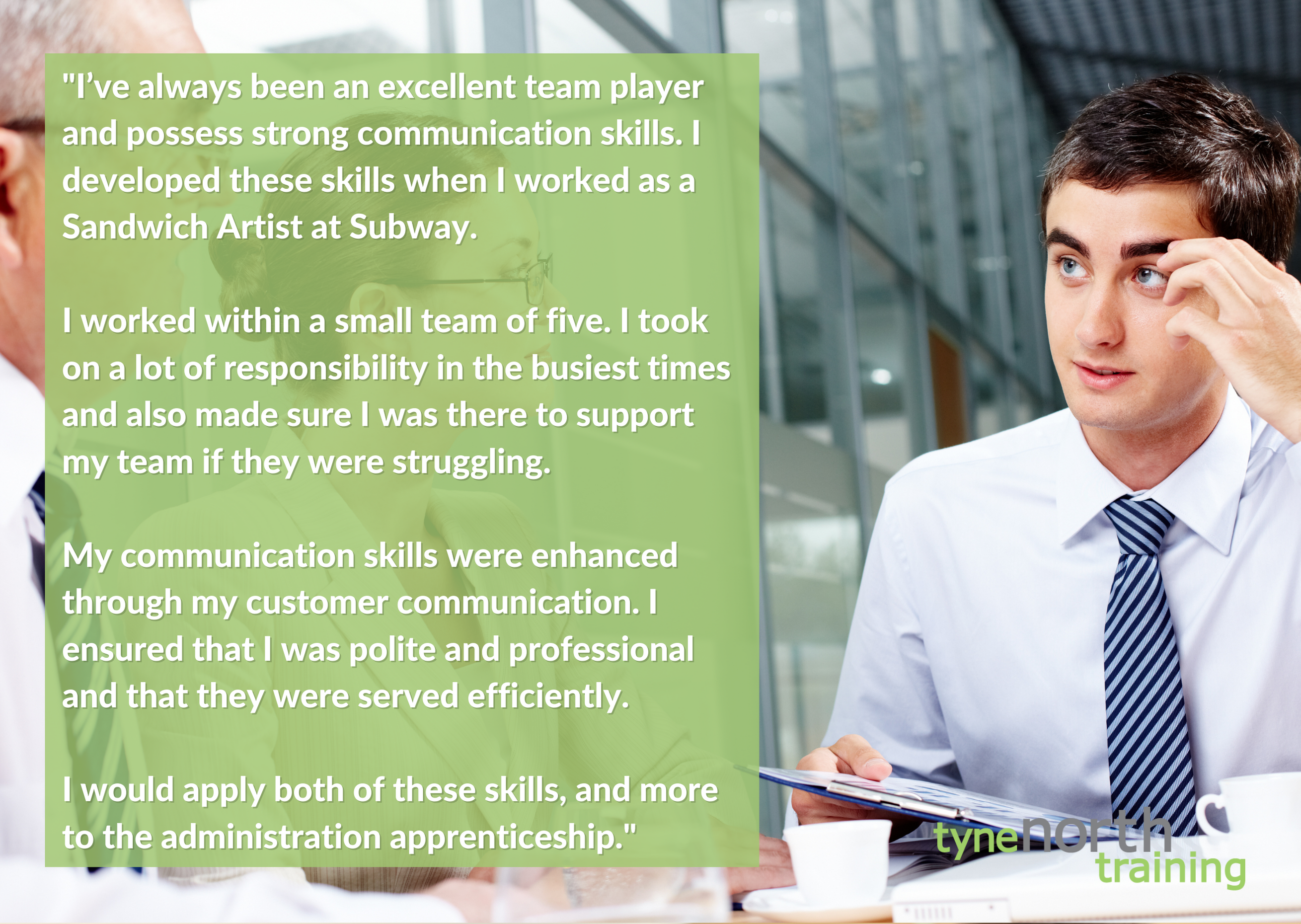 Soft Skills: Leadership Skills, Teamwork, Communication Skills, Problem Solving Skills, Work Ethic, Flexibility/Adaptability, Interpersonal Skills etc.
What would you say is your biggest weakness?
Don't answer this question with answers such as 'I work too hard, so I'm always running out of work to do' – the interviewer isn't trying to catch you out with this type of question. This is a perfect opportunity to demonstrate that you're honest and can evaluate your own performance.
The ability to identify your own weaknesses is considered a strength.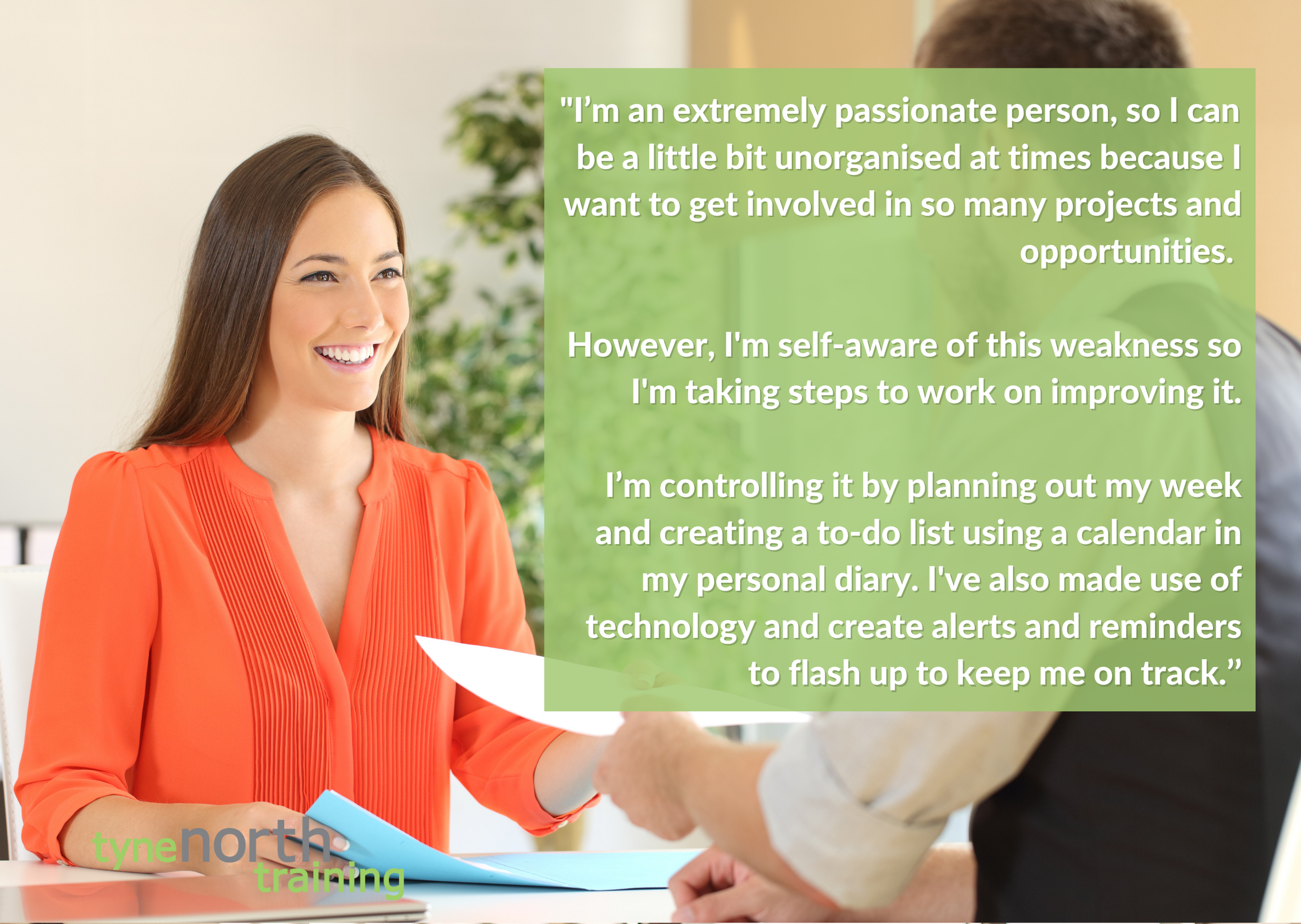 Top Tip: Make a list of all your weaknesses and if you haven't already, start to come up with ways to improve on them. This will not only better prepare you for your interviewer, but it will also help you improve on a personal level.
Is there anything that you would like to ask us?
So the interview is nearly finished and you're ready to get out of there fast. This is your final interview question so make sure to end on a high.
Don't respond to this question with a simple NO. There are always questions to ask. This is a great opportunity to get to understand the apprenticeship more – and even see if it is a good fit for you. You could ask questions relating to the responsibilities of the role, opportunities for progression, what the company culture is like, or if there are any additional qualifications or training you could take.
Even if it's just simple questions such as: "what is the next stage of the apprenticeship interview process?" is better than walking out without saying anything.
Top Tip: It is a good idea to research the company beforehand and come up with questions you would like to ask at the end of the interview. We would recommend thoroughly going over the job description and responsibilities too and hopefully there will naturally be some questions that come to mind that you would like to know the answers to before you start the apprenticeship.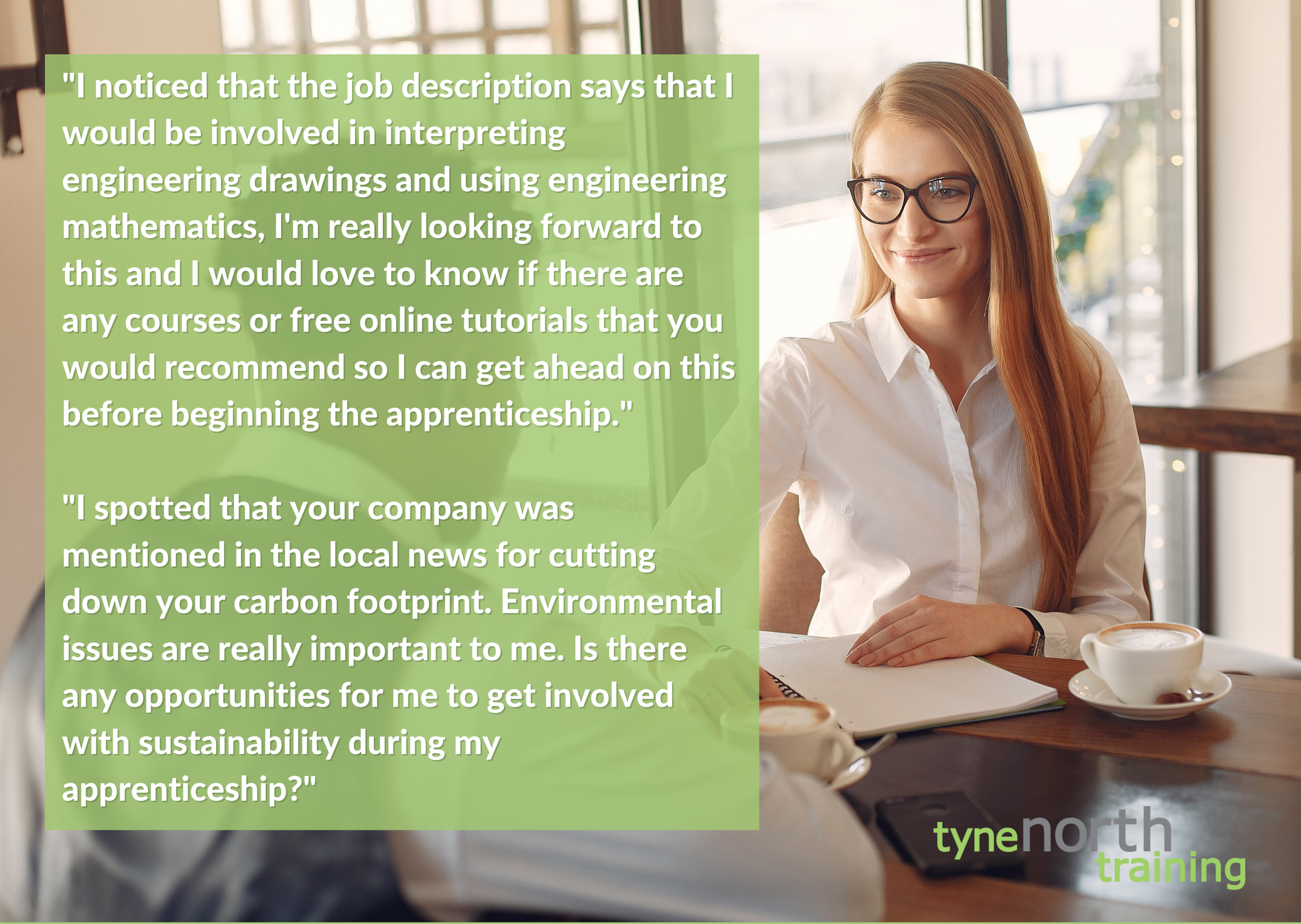 Bonus: Tips to prepare for your interview
The success of the interview is not just based on the apprenticeship interview questions they ask you. There are many things that you can do even before you get to the interview questions stage.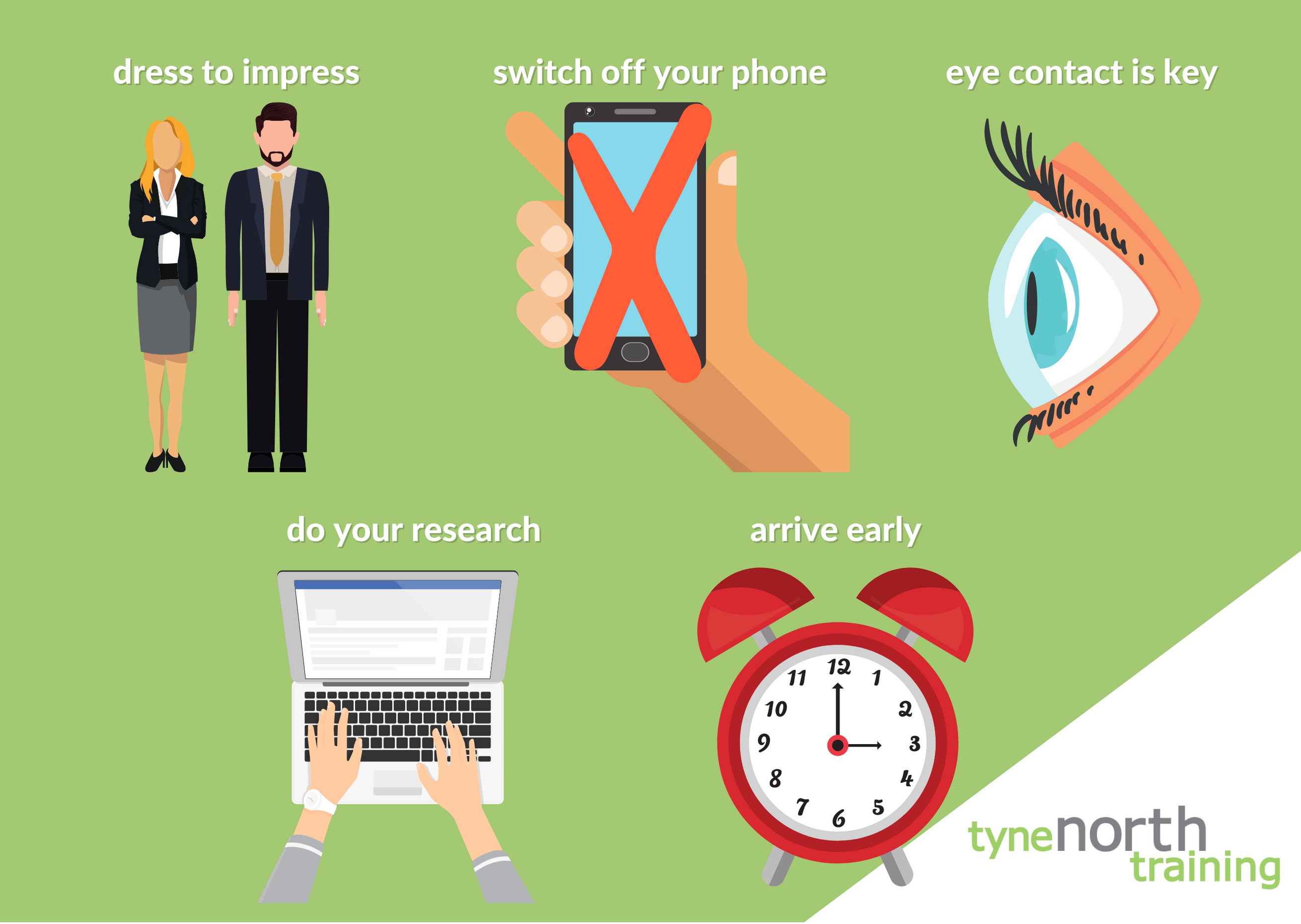 Dress well
It does not matter what type of apprenticeship you're applying for, be it engineering or business administration, wearing professional clothing will show that you're taking the interview seriously.
Turn your phone off
The last thing you want is your phone going crazy with notifications when you're in the middle of the interview. Turn it off. It's also wise not to sit on your phone before the interview. Engage with people passing by, smile and say hello!
Maintain eye contact
We're not talking about having a game of see who can blink first here. Maintaining eye contact when being asked or answering questions shows that you are fully engaged with the interviewer and you are actually paying attention. Keep it natural.
Research
We've already mentioned this above but we think it's worth mentioning again. Always do your research about the company and the apprenticeship itself. Look at their website, social media or try and find any news articles they may have been featured in which shares their successes.
Arrive early
Is your interview at 11 am? Arrive at 10:45 am. You don't want to be rushing into your interview at the very last second. It will only increase your nerves and make you feel anxious.
Case Study: Kane Gellatley – Daikin Applied
An apprenticeship is a great option if going to college or sixth form isn't for you. Getting into employment early means that you have the opportunity to progress in your career faster than everyone else. It will also help you to gain the skills and knowledge you need to succeed in your chosen career path.
Here at Tyne North Training, we have over 450 apprentices and we only employ Training Officers who are sector specialists so that all apprentices are supported by Training Officers who have the first-hand experience of their role.
We recently received feedback from one of our shining apprentices, Kane Gellatley, on his experience at Daikin Applied UK:
"Tyne North Training has been such a big help to get myself where I am today. Right from the off I was presented with opportunities within business admin from various different companies leading to working for Daikin Applied UK. I have now been involved with Daikin Applied UK for 6 months and have enjoyed every minute of it- meeting new people and getting a feel for what this company is all about. I am really pleased I chose Tyne North Training to help find an apprenticeship suited to me. I am now the administration lead within the After Sales Department dealing with a variety of stakeholders from suppliers, customers and internal staff. I have been shadowed by senior staff to learn all the departmental processes and understand the technical specifications of the stock items the After Sales department deals with. "
Stacey Sanderson (HR Assistant), of Daikin Applied UK, had this to say about Kane's progress:
"Since joining us here at Daikin Applied UK, Kane has successfully risen to every challenge presented to him no matter how big or small from integrating into an established team of staff to completing all tasks set via his Training Officer. Starting a new job is daunting although you would have never noticed this with Kane who took it all in his stride and always with a smile. His work ethic has been fantastic and he's always happy to help or learn and has already grasped almost all areas of Business Administration within the workplace. Following his enthusiasm for our Salesforce system, he has now been handed the responsibility of training new and existing staff members which again has helped him to build further confidence and expand his role. He is a delight to have around the office and his manager is overjoyed at the benefit an apprentice has had in her department."
Start your apprenticeship with Tyne North Training…
Are you interested in a Business Administration apprenticeship? Start your career with Tyne North Training today. We accept applications for a Business Administration apprenticeship throughout the year, simply head on over to our website to take a look at our programme guide and if you wish to discuss your enquiry with a member of our team, don't hesitate to get in touch. Call us on 0191 262 6860 or email us at tnt@tynenorthtraining.co.uk.


Tyne North Training is a specialist apprenticeship training provider. – We have a proud history of training apprentices dating back almost 50 years. Thousands of North East employees have taken the first steps in their successful careers with a Tyne North Training apprenticeship. We provide apprenticeships in the Engineering and Business Administration sectors and currently manage around 450 apprentices, working in approximately 150 different employers.